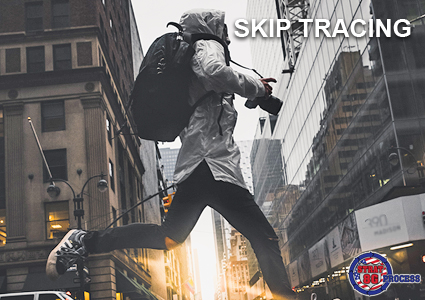 Do you need help skip tracing someone who's ducking legal obligations? STRAT8G Process has professional skip tracers who deliver results where others fail.
By using a combination of tried and true procedures, real-time cutting-edge technology, and deep experience, we get the job done.
Has a tenant skipped town after defaulting on rent or a mortgage? Near or Far, we can trace their current location fast!
Local: (205) 517-8226 | TF: (800) 530-6184
In-state, out of town, or across the country, we'll find the person you're looking for. The best part is that it won't cost a fortune to do it.
Alabama Skip Tracing Services
Chances are you are here because you need to hire a skip tracing service in Alabama or Nationwide. Most of you have tried other companies to accomplish this and they fell short on locating your subject. That won't happen with STRAT8G Process. We'll find the person's new whereabouts and get the contact information to you in a timely manner. Once we find the individual, our document couriers can serve them legal papers too.
Usually skip tracing is a key part of the services we provide as a service of process. In most cases, someone is a party to a lawsuit or some kind of legal action. Regardless of the reason, time is almost always of the essence. Because of this, it's important to hire an experienced skip tracer. We are and our reputation for getting the job done is strong. Everything from an in-depth record search, to a complete investigation, STRAT8G Process uses every tool to get the results for our clients.
Some of the methods we use during a skip trace include:
Public Records
Phone Databases
Associate Interviews
Social Media
Video Services
While it's true that a ton of information comes from public information sources, rarely do they lead directly to the person. In most cases, it takes a combination of public information and years of experience to achieve solid results. Remember, the goal is to locate someone who's avoiding you or someone else. Rarely do they make it easy to find them. We make it hard for them to hide.
Skip Tracing Cost
One of the very first questions we get from new clients is about our fees if they hire us. As of March 1st, 2022, the cost for skip tracing in Alabama averages between $99 to $250 for quick finds. The same is true for the rest of the United States. Now, in some cases, it could be a little less money. Additionally, large-scale and complex operations could be much more. The bottom line always comes back to delivering the factual whereabouts of the person you hired us to find. At STRAT8G Process, we don't disappoint.
What is a Skip Trace?
While most people looking for the person locating service know what it is, some don't. The definition of a skip trace is a process used to find the current location of someone who has "skipped out" of town to avoid facing legal actions. Usually, this person of interest will then be served a notice or court summons by a process server.
We provide affordable and dependable skip tracing services in Alabama and the entire United States.