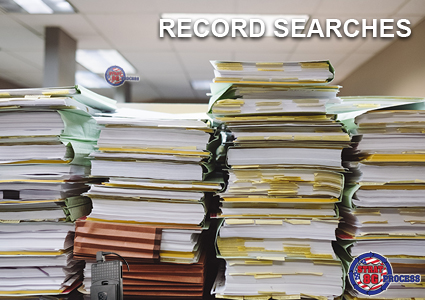 Thinking about doing a record search on someone? STRAT8G Process can help you find the information you need fast.
Whether you don't have the time to do it yourself or you've exhausted all of your own resources, this service of process feature gets results.
Don't have the time or resources to go digging deep into searching public, criminal, or property records? Save the hassle and leave it to us!
Local: (205) 517-8226 | TF: (800) 530-6184
While many of our clients simply want a background check on a potential hire, a lot more need factual information for legal reasons. Whatever the case may be, we have access to public and private databases that make the search quick and effective.
Alabama Public Record Search
It doesn't matter whether you need to find information on someone here in Alabama or Nationwide, it all starts with knowing where to look. In almost every state, there are four types of databases to search through. The first 3 are usually located in the public records section. They are as follows:
Public Records. Most large cities or counties provide free access to this database.
Criminal Records. Confirmation of criminal and arrest records can be found by name here.
Property Records. Searching in this database can reveal sales history, tax information, and more.
People Searches. While past address and contact information can be found here, deeper digging is a must for current and accurate location details.
There isn't anything wrong with performing a public records search for free. If you find what you were looking for then that's a win in our book. It's when you can't find the most current information on someone or something that's very important that's frustrating. This is where STRAT8G Process shines. Our skip tracing services have this procedure down pat. When time is money and your need for accurate results is urgent, call us.
People Finder
Do you need to find information about a person including their current address? Our investigative searches produce results. Don't waste your time and money on "too good to be true" internet offers. When someone takes off to avoid legal, financial, or parental responsibilities, they're not going to make it easy to find them. With a deep background in private investigation, we have the proven skills and techniques to find people that others couldn't. Once we find your person, our document couriers can service them papers or notices too.
We provide criminal, property, and public record search services in Alabama and the entire United States.